Regular price
Sale price
$99.00 USD
Unit price
per
Sale
Sold out
About Refills
Driven by the principle of wholeness, this routine is for every skin type and every human at any age. It recognises the wisdom within our body, our skin and the wisdom of nature. It is supportive rather than manipulative.
What is Skin Microbiome?
Similar to the gut microbiome, the skin microbiome is the incredibly diverse web and interplay of beneficial bacteria and other microorganisms that live on our skin. Just like in our gut, these fill a prominent role in our skin health. Skin conditions such as - premature ageing, uneven skin tone, sun sensitivity, cystic acne, oily skin, dry skin, eczema, rosacea and more result from this ecosystem becoming unbalanced.
To achieve healthy, glowing skin, all we need is to stop forcing and manipulating skin with chemical-laden skincare and instead start supporting the microbiome with pure, wholesome nourishment that comes directly from whole plants full of life. They provide building blocks such as antioxidants, vitamins, minerals, enzymes and phytonutrients and speak the same language as our skin.
We recommend applying this routine without any other skincare, including make-up removers, cleansers (even the gentle ones), and exfoliants so that you can see the true change on your skin!
The full set includes:
Cleanser: 100ml Organic Jojoba Oil + 3 x Soft Bamboo Cleansing Cloths
Hydrate and Moisturize: 100ml Organic Hydrating Rose Facial Mist + 30ml Organic Botanical Face Elixir
Trial Set includes:
A full set of organic skincare miniatures to test and trial the Earth To You facial line. From cleansing to masking, this taster set includes a full skincare ritual with several uses for each product (except the Herbal Detox Organic Face Mask, which is one use only.)
Set Includes: 
15ml Organic Jojoba Oil  - 15ml Organic Hydrating Rose Facial Mist - 5ml Organic Botanical Face Elixir - 5g Herbal Detox Organic Face Mask - 5g Organic Botanical Night Balm - 5g Overnight Botanical Lip Mask 
Everyday routine for every skin type, any human, any age

Especially recommended for prematurely ageing, sensitive, dry or oily acne-prone, problematic skin
View full details
About Refills
Please note the refill service is only available once you return your empty bottle to us. First-time orders will need to purchase a bottle or jar. Refill service is currently only available within the United Kingdom.
Step 1. Send your empty bottles or jars to our address below. Please include your name and order number in the parcel, so it doesn't get lost. 
Earth To You Ltd. 17 Lyon Road, Mainyard Studios, Studio A2, SW19 2RL, London, United Kingdom
Step 2. We will then clean, sanitise and refill your bottle and send it back to you. Please note that we wont include product's outside paper packaging unless you send one in.
Processing Time: Refills are processed after a couple of days of receiving your empty containers. So if you are ordering other products at the same time, please note that your entire order will be shipped once we receive and process your refills.
Shipping Cost: We offer a discount on the refill which should cover the cost of sending it back to us, especially if you gather a few bottles, jars to send at a time.
Collapsible content
Full Ingredients List

ORGANIC BOTANICAL FACE ELIXIR

*Jojoba Seed Oil, *Rosehip Seed Oil, *Tamanu Seed Oil, *Frankincense Oil, *Lavender Flower Oil, *Orange Peel Oil, Vitamin E, Sunflower Seed Oil ; In-House herbal infusion of *Calendula Flower, *Lavender Flower, *Chamomile Flower, *Rosemary Leaf, *Nettle Leaf, *Rose Petals, **Geraniol, **Linalool.

*Organic Ingredient, **Natural Constituents of Essential Oils.

----

ORGANIC ROSE HYDRATING FACIAL MIST

Organic Rose Water (Rosa Damascena) from Bulgaria. Steam Distilled, Unrefined, Single farm origin.

----

ORGANIC JOJOBA OIL

Organic Jojoba (Simmondsia Chinensis) Oil from Egypt. Hexane-free, Unrefined, Cold pressed, Non-GMO, Single farm origin.

----

SOFT BAMBOO CLEANSING CLOTHS

100% eco-friendly, responsibly sourced organic Bamboo Pulp Fibre. Wash at 30 degrees after each use and air dry
Suited To

Suitable For: All skin types.

Really Good For: Acne prone, oily skin, eczema, psoriasis, rosacea, problematic skin.

Safe for use during pregnancy
Sustainable Packaging & Refills

We use a frosted brown glass bottle to protect the potency of the plants and precious oils. The outer packaging is made from recyclable/biodegradable unbleached kraft paper. Our labels are made from 100% recycled waste paper.

HOW TO RECYCLE
The product includes glass bottles and clear recyclable polypropylene (PP) plastic cap. The pump, spray and nitrile teat must be disposed of with your household waste bin.

REFILLS:
Refills are available on this product, so once you purchase your first set, you can send it back to us, and we will clean, sanitise and refill it for you again and again. Please visit individual product pages to purchase your refills. Refills are currently only available within the UK.
Giving Back

We believe in a return to nature, centred around a sustainable cycle where we should only take what we can give back. That's why every Earth To You order starts and ends its journey as a seed in the soil.

With the intention of revitalising arid farmland, we donate a portion of each sale to a programme called the Forest Garden Approach. Run by a charity called Trees For The Future, the 4-year programme gives farmers the skills they need to sustainably support their communities and grow thousands of trees. Every seed planted helps to reverse environmental degradation, restore biodiversity, and remove megatons of greenhouse gases from the atmosphere. But more than that, Forest Garden Farmers gain access to income and food for themselves and their families, breaking the cycle of poverty and hunger. Just as the earth gifts us with healing and nourishing herbs and botanicals, we must give back and do what we can to protect the soils we come from. This sustainable approach to re-forestation brings valuable nutrients back to the soil, breathing new life and hope into over-farmed and arid lands.
How To Use
STEP 1: Start by warming a generous amount of Jojoba Oil between your palms and pressing the hands onto the face.

STEP 2: Using a firm but gentle pressure, begin massaging the oil into the skin. Focus on the areas where you have tension, breakouts, or blackheads.

STEP 3: Enjoy this massage for about 1-2 minutes as the oil starts to dissolve dirt and build-up from the day.

STEP 4: Next, soak your Soft Bamboo Face Cloth in warm water, ring out and press onto the skin. Take a few deep breaths and really absorb the warmth. This will help dissolve any dirt that is clogging your pores.

STEP 5: Make a little mit with your cloth and start to very gently exfoliate the skin with small circular motions. Start from the forehead and make your way down the face. Wash the cloth under warm water and repeat this if you need to.

STEP 6: Finish by using wiping motions to remove any lifted dirt and makeup away from the face. Rinse any leftover oil away with warm water to reveal glowing, cleansed and healthy-looking skin.

STEP 7: Apply Rose Water followed by Botanical Face Elixir to further boost your microbiome and complete your routine.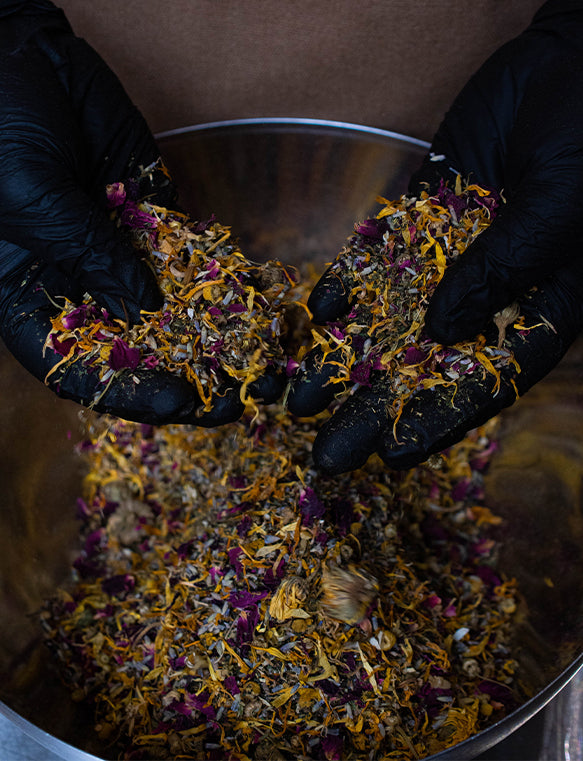 Ingredients & Plant intelligence
Cleanse:

The most damaging step is usually the cleansing of any routine. That's why we love cleansing with Jojoba - the closest oil to sebum. As opposed to foaming cleansers containing skin-irritating ingredients that dry us out, causing the skin to panic and overproduce sebum, a Jojoba cleanse works with the skin to rebalance sebum production. It's based on the principle that 'like' dissolves 'like'. In other words, oil dissolves oil to lift excess sebum, clean out clogged pores, and remove dead skin, pollutants, and makeup. ⁠Plus, Jojoba is naturally rich in nutrients, vitamins, and antioxidants essential to skin health.

Boost Microbiome:

Organic Hydrating Rose Facial Mist

⁠Now that the skin is free of pollution and dirt stuck in the pores, it's time to further boost the Microbiome with nutrients, vitamins, and antioxidants essential to skin health.

Rose Water has been used in folk medicine for centuries. Packed with antioxidants and vitamins to promote cell regeneration and collagen production, Rose Water is also slightly antibacterial and targets free radicals to prevent any skin cell damage. A few sprays provide powerful vitamins such as A, C, D, E and B3 that help keep skin looking youthful.

It also has mildly astringent properties that tighten the pores, gently tone the skin, and help oils absorb faster by the skin.

Organic Botanical Face Elixir

Made with our in-house slow infusion (2.5 months) of Calendula, Lavender, Chamomile, Damask Rose flowers, Rosemary, and Nettle leaves, Rosehip fruits, Botanical Face Elixir is a truly raw, organic food for your skin.

Calendula brightens sun-induced hyperpigmentation and prevents breakouts and acne - Rose, Chamomile, and lavender soothe - Nutrient-dense Rosehip fruit and Nettle leaves boots skin's immune defence.

Naturally healing and antioxidant oils like Tamanu and Rosehip are full of replenishing nutrients that help support and stimulate skin cell turnover, allow the skin to heal faster, reduce the sight of scarring, and smooths fine lines.

In addition, Botanical Face Elixir works with the skin to replenish the epidermis and prevent water loss without leaving an oily feeling. Scented with ancient Frankincense that activates the brain's pineal and pituitary glands helping you get closer to a state of wholeness.